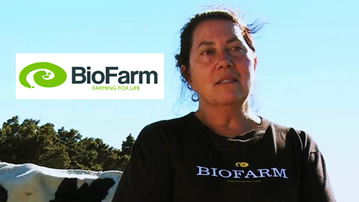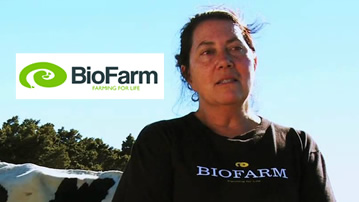 Certified organic since 1986, BioFarm is the second oldest commercial organic farm still operating and run by its original owners, Jamie and Cathy Tait-Jamieson. BioFarm is also unique in that it produces both the raw material (milk) and the finished product on the one farm. Best known for producing probiotic natural yoghurts, BioFarm also produces EcoFarm pasteurised milk and have just introduced organic butter.
Product Range
BioFarm Acidophilus Yoghurt (1 litre plastic bottle)
This popular natural unsweetened yoghurt is made from pasteurised whole milk with the only thing added being live yoghurt cultures, including acidophilus, bifidus, and casei. Described as 'pouring yoghurt', it is great for a healthy and nutritious topping for breakfast cereals (with or without milk) or as a substitute for cream on desserts. It's also great for Indian, Middle Eastern and other ethnic cooking whenever the recipe calls for natural yoghurt. It is ideal for cooking, to make light and tasty muffins and is delicious in smoothies because being so natural you can really taste the flavour of your preferred fruit.
BioFarm Low Fat Yoghurt (1 litre plastic bottle or 500g Ecolean pouch)
This 99.9% fat free yoghurt follows the same process as the acidophilus yoghurt, except for the fact that the cream is separated from the whole milk to create skim milk. It is ideal for diet conscious people wanting a pure and natural low fat topping for breakfast cereals and desserts and it makes particularly good smoothies and low fat muffins and pancakes.
BioFarm Bush Honey Yoghurt (1 litre plastic bottle)
BioFarms Bush Honey yoghurt is a combination of natural acidophilus yoghurt and native honey, including Manuka, Pohutukawa, Rewarewa and Tawari from forests in the Kaimai Ranges and on the South Island's West Coast. The honey is gently stirred into the natural yoghurt to produce delicious high-energy yoghurt.
Pasteurised Whole Milk (650g Ecolean pouch)
The natural choice, this pasteurised whole milk is produced by organically farmed cows and is packed fresh on the farm. 650g approximately equals 1 pint of milk.
EcoFarm Low Fat Milk (1 litre Ecolean pouch)
Just like the popular whole milk version except for the fact that 99.9% of the fat has been removed.
Organic Butter
NEW PRODUCT – 250g lightly salted or unsalted.
BioFarm Low Fat Honey Yoghurt (1 litre plastic bottle)
BioFarms Honey Dew is a probiotic low fat yoghurt flavoured with honey dew collected from New Zealand native Beech forests. Honey Dew is naturally high in antioxidants. This product is 99.9% fat free and is a delicious high-energy yoghurt that satisfies the requests from BioFarm consumers for a honey flavoured low fat, high protein yoghurt suitable for smoothies and energy boosting drinks used widely in the 'gym and sports culture' sector of the market – and for those concerned with fat intake, it provides a suitable alternative to the popular Bush Honey yoghurt.
BioFarm Original Thick & Creamy (500g Ecolean pouch)
BioFarms original product, the 500g Ecolean pouch of Thick & Creamy Natural Yoghurt is just as nutritious and popular as ever. This is a traditional European style yoghurt with probiotic cultures. It is thicker than the other yoghurts so is ideal as an accompaniment to cakes and desserts. It has a real creamy feel on the mouth but is not high in fat.