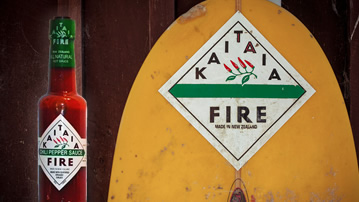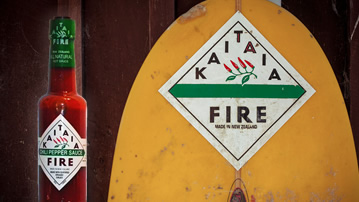 Kaitaia Fire produces hot chilli sauces made with certified organic ingredients. Originated in 1989 on a small organic farm at Lake Ohia in Doubtless Bay Northland, Garry Sommerville has developed a kiwi chilli sauce icon that is now exported to eighteen different countries where its flavour and power continues to astound all who dare be tempted by it.
We'd be lying if we said that we had dedicated our lives to bringing you, the consumer, great taste sensations. Anyone clever enough to access this site, is way too clever to be lied to. In truth we lead full and varied lives, always striving to maximise the pleasure we get from life, while keeping in mind the number 1 principle in karmic theory – What goes round, comes round!
Understand then our surprise and delight when we realised that we had stumbled upon a couple of fantastic recipes for chili sauce. Modesty here curbs our desire to let loose a burst of adjectival superlatives, but both sauces have met with international acclaim. And who are we to deny the majority their voice? So here they are, probably the finest hot sauces in the world, from the finest little country in the universe.
Product information
No colourings
No preservatives
Packed in 150ml (5oz) bottles, 12 in each case
Shelf life of 24 months from date of manufacture