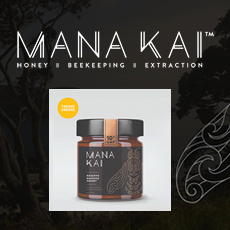 Our story begins with our passion for bees and beekeeping while striving to maximise the benefits for Northland, our people and this wonderful resource.  Formed in 2013 Mana Kai Honey is an emerging boutique beekeeping business.  Our home and workplace is the small rural community of Awanui, 5kms north of Kaitaia, in the Far North of New Zealand.
Our Māori beekeeping business is vertically integrated from the flower to the honey jar and we are continuously working with innovative partners to progress and develop our business further.  Our business relies on the strength of our relationship with our honeybees and all partners across our business – whānau, landowners, employees and customers.
We specialise in exquisite high grade Manuka Honey –a world-renowned wonder food.  Share our honey taste experience. 
Produced in New Zealand by bees that pollinate the Manuka bush, Manuka Honey is one of the most unique and beneficial honeys in the world.  Manuka Honey contains a highly beneficial trilogy of hydrogen peroxide, methylglyoxal (MGO) and dihydroxyacetone (DHA).  These chemicals result in antibacterial qualities which have been known to be beneficial for use on burns, wounds, ulcers, sore throats and more.
We bring you a portfolio of honey which ranges from high UMF Manuka to Native Flora and Multiflora blends, all beautifully crafted by our honey bees.  This honey has been sourced from pure and natural New Zealand environments, to produce pure and natural honey.
Reserve range – Reserve Manuka Honey UMF 10+, Reserve Manuka Honey UMF 15+, Reserve Manuka Honey UMF 20+
Premium range – Premium Manuka Honey 250gm UMF 5+, Premium Manuka Honey 250gm UMF 10+, Premium Manuka Honey 250gm UMF 15+, Premium Manuka Honey 500gm UMF 5+, Premium Manuka Honey 500gm UMF 10+, Premium Manuka Honey 500gm Classic UMF 3+
Wholesale range – Raw Honey 1kg, Manuka Blend Honey 5kg, Native Flora Honey 5kg