The business community is in unprecedented territory.  Given the extraordinary circumstances businesses face, Poutama is working with key Government agencies and other Māori economic development entities to assist businesses navigate the various assistance packages that the Government has introduced.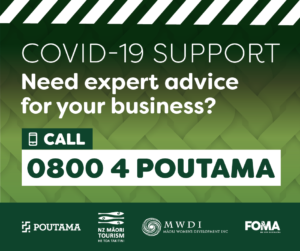 The 0800 4 POUTAMA (0800 476 882) COVID-19 Māori Business support line for Māori businesses was launched to give you direct access to specialist advisors who can provide the support you require as business owners and employers during these difficult times.
The Government is doing everything it can to cushion the impact on businesses through the many support packages that have been announced to date.  However, we know from the feedback we are getting that understanding and accessing this information as well as navigating through the system can be difficult for some people.
NZ Māori Tourism, FOMA, POUTAMA and the Māori Women's Development Inc. have united to fully utilise our collective resources, expertise and networks to support you as COVID-19 continues to impact on us all.
The 0800 line will be open from 8am – 8pm Monday to Friday.  This service is available to all Māori businesses adversely affected by COVID-19.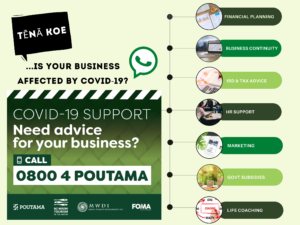 Poutama are here to work through these uncertain times alongside you.  If you need some support or wondering what help is out there, feel free to contact us – we're here to listen and help where we can.
To help with this, we'll be updating this content on our website, as and when new updates are available.  As we are all experiencing, the situation is fluid and changing constantly.
We hope you find these resources informative and helpful when it comes to understanding the COVID-19 situation and how it may affect us as a country, your business, communities and whānau.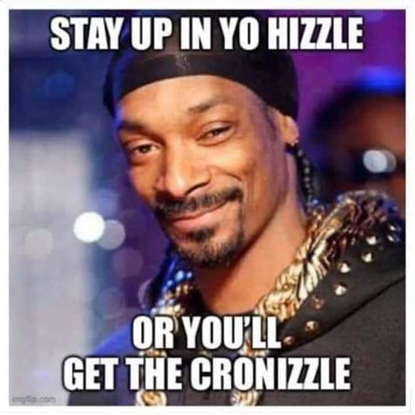 Poutama will be sending out regular panui on matters concerning our new reality in relation to your business activities, plus whenever possible will try and lighten the load with a little bit of humour such as Snoop Dogg adapting his 'shizzle my nizzle' for the cronizzle.
He Waka Eke Noa – We are all in this together
COVID-19 – Support for businesses
COVID-19 – Latest updates