Written by Missy Armstrong
Understanding the 'Business Support Eco-System' can be confusing as leadership, budgets and company objectives change year-on-year.  There is no secret pool of money for start up initiatives and there is also no secret directory of support agencies.
Those that survive the first 2 years have backed their dreams with their own pūtea and if they've received any support it's because they've learnt to HUSTLE!  Networking can open doors, fast track solutions and create important contacts to grow your business.
I recently organised a one day roadie in Auckland to better understand my knowledge of the support available for the Food & Beverage industry and took a small group of established Māori Food & Beverage producers with me.  It was an opportunity to meet with government agencies that have incredible resources and facilities to support businesses to diversify their products and scale up!  It was an introduction for like-minded entrepreneurs to connect and share experiences, knowledge and contacts.
With a full days agenda we started our hīkoi at Plant & Food Research with a warm whakatau from Stacey Whitiora and team.  Plant & Food Research is a New Zealand Crown Research Institute.  Its purpose is to enhance the value and productivity of Aotearoa's horticultural, arable, seafood and food & beverage industries.  Their science supports the sustainable production of high quality produce that earns a premium in international markets, as well as driving the design and development of new and novel functional foods that offer benefits to human health and wellbeing.
In addition to science, Plant & Food also conduct innovative and well-established tests to evaluate consumers' preferences and acceptability of food and beverage products as well as consumers' perceptions of new technologies.  This includes development of innovative new testing methods and facilitation of focus groups to gather qualitative information about new products, packages or ideas.
Our next stop, the lawns of Villa Maria for an open group discussion with our mates from Callaghan Innovation – Aroha Armstrong, Group Manager Māori Economy and Katy Bluett Group Manager Food & Beverage.  In a round group kōrero, our rōpū openly shared their aspirations, target markets and barriers for their businesses.  Katy and Aroha then provided valuable insights on consumer trends, industry know how and connections for support.  Each discussion provided important learning and strengthened the resolve within the group.
Our final stop, New Zealand Food Innovation Network also known as The FoodBowl – a government funded organisation equipped to support innovation and development of new food and beverage products.  CEO Alexander Allan and Alasdair Baxter literally opened the doors to their kitchens.  After one last round of our rōpū perfecting their elevator pitches, we gowned up and went exploring around the FoodBowl facilities.  I love food, but have little interest in cooking, but even I was excited by what I saw.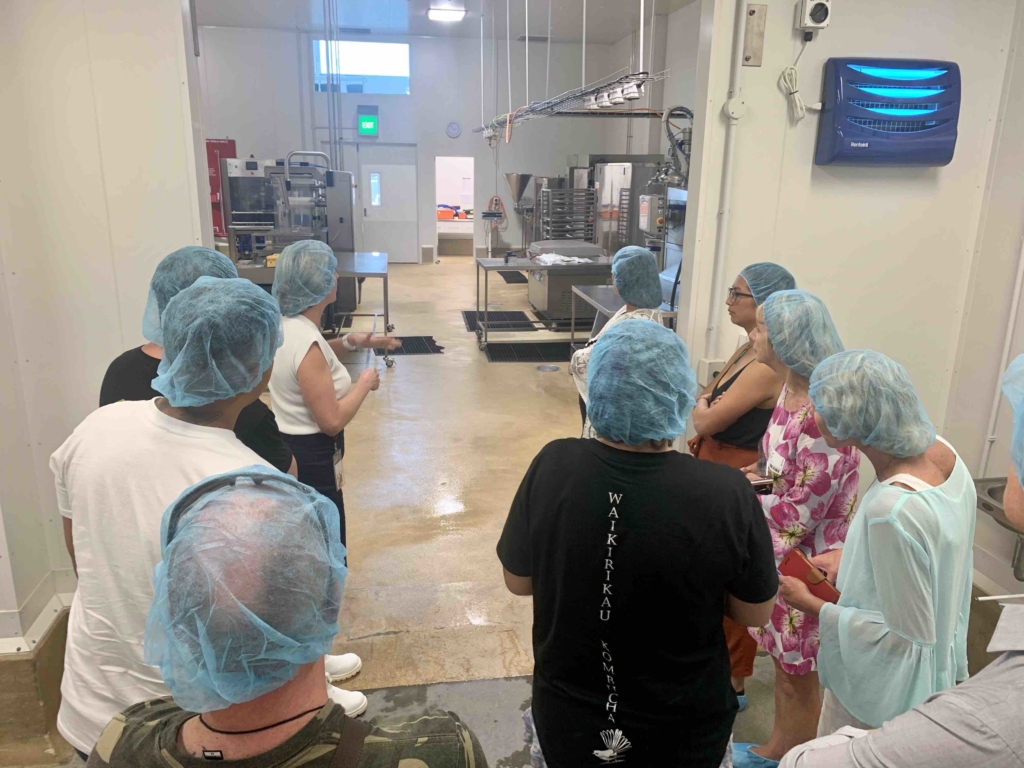 The FoodBowl has seven multi-purpose food-production suites containing large-scale state-of-the-art equipment for processing food and beverages.  From small start-ups to large corporates, The FoodBowl provides the premises, equipment, support and connections to help businesses develop new ideas, whether businesses want to test new processes, trial new equipment or prepare products for sale on a local or international stage.  The FoodBowl has export certification and have the specialist staff onsite to help answer questions and offer advice for businesses.
Companies can rent facilities on a day-to-day basis to undertake new product development and improvement, and validate their product in new markets, before investing in their own equipment, or increasing the capability of their existing facilities.
Each of the organisations we visited shared success stories from some of the businesses they have worked with.  They provided invaluable solutions, connections and inspiration.  Businesses were encouraged to engage in the support available if they are clear on what it is they are wanting to achieve.
I look forward to sharing Te Ara Mātai Kai and other industry focussed workshop in 2020.
Ngā mihi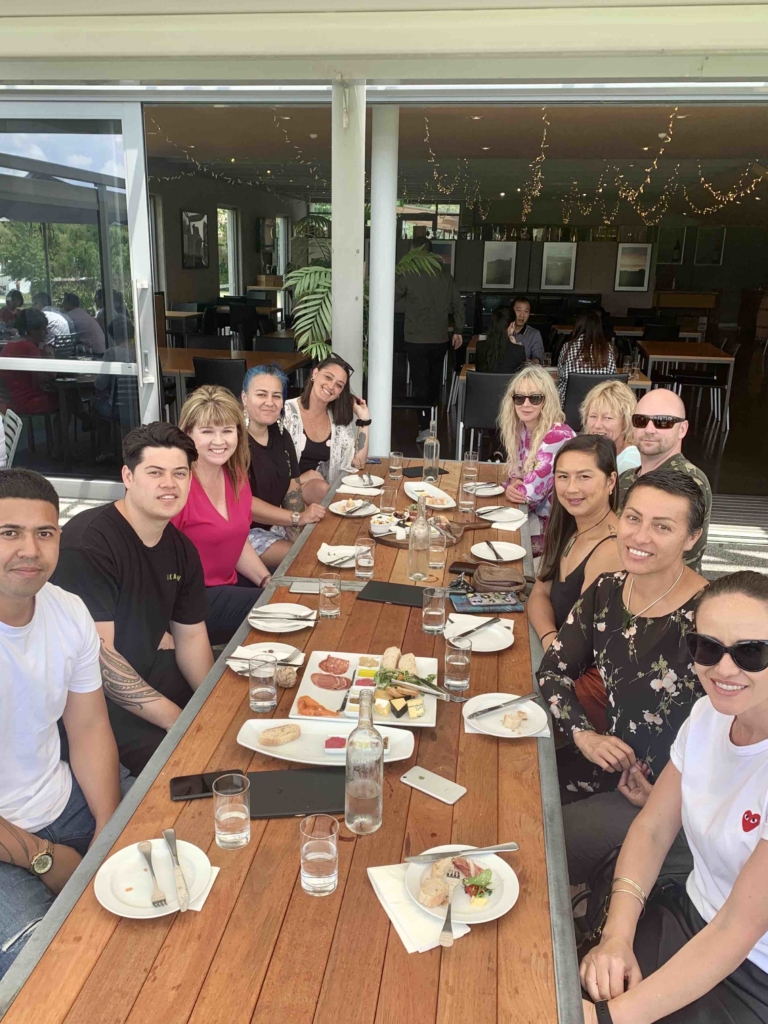 "I really enjoyed the speed of the day.  Being able to experience who these organisations were and decide if they fit or not then move on to the next".
"I loved finding out about the FoodBowl, meeting with other entrepreneurs, and learning about exporting".
"Awesome day, amazing kaupapa, brilliant organisations and hosts/presenters.  I came home to reassess where we are at in our mahi and what changes can be made to improve ourselves".
"We are remotely located and spend too much time just doing our mahi and not enough time outside our business looking at things more strategically and objectively.  Te Ara Mātai Kai reminded me how useful these Research organisations can be.  I expect to be back in touch with both Callaghan and Plant and Food on an innovation project that had briefly stalled due to our not being able to find the right collaboration/research partners". 
"It was great to meet and share with the others as we're all in the waka in our business journey so sharing our stories was greatly appreciated".