Tane Bradley – Ngāti Maniapoto
AgriSea NZ Ltd is the leading biological input company in NZ.  It is a Paeroa based, multi-award winning, family business.  Tane Bradley is CEO and along with his wife, Clare, are the second generation to run this company that was founded almost 25 years ago, under the name Ocean Organics.  Tane says, "One of the big challenges facing whānau companies is succession.  Clare and I are excited and honoured to be the next generation to commit to the kaupapa of AgriSea and Ocean Organics."
AgriSea manufactures beach cast seaweed into a range of products that provide high nutrition for soil, plant, animal and human health.  The seaweed is collected sustainably by whānau in remote coastal communities around the North Island.  It is naturally dried and then packed into wool bales and trucked to Paeroa.
AgriSea is NZ's largest investor in research for biological farm inputs and marine algae ecosystems.  They are committed to providing scientific evidence for the efficacy of their products for agriculture, horticulture, viticulture, apiculture and the dairy sector.  "If it does not add value for farmers or growers – we would tip it out!" says Clare.  They see research as their clear responsibility and have developed a long term R&D strategy to continue to provide the markets they supply with proven products that add value for farmers and growers.
A few years ago a large USA company gathered together all the seaweed products available in the USA and trialed them against each other over a range of crops – a Canadian product came out best. An American horticulture advisor who had been given a sample of AgriSea seaweed product at a Trade show in Germany gave some to this USA company – they trialled them against each other.  The Canadian seaweed had to be applied at x10 the rate to get the same result as AgriSea seaweed.  "We know we make the best in the world," says Tane.
AgriSea has funded empirical research for the kiwifruit, viticulture and dairy sectors with extraordinary results.  With farmers under pressure to maintain or increase productivity, whilst also meeting legislative and public demands for higher environmental standards it is important that biological farming inputs are well researched and proven alternatives – AgriSea sees this as a clear company responsibility and demand for their products is increasing.  "We supply to 60% of the vineyards in NZ," says Clare "and the dairy sector is still our largest sector."  One of Tane and Clare's major aims is to make biological or sustainable farming – mainstream.
In 2014-15 the dairy industry was on its knees across the world, the plummeting international prices for milk powder significantly affected many New Zealand rural businesses.  It was during these difficult times that Tane, Clare and their team discovered commercial beekeepers had been buying their Animal Nutrition products for a number of years.  Curious, they set out to talk with beekeepers across the country.  "It has every essential amino acid, vitamin and mineral bees need" was the beekeepers response.  Beekeepers began ordering in droves, mixing the nutritional product at 2% into sugar syrup, water or directly drenching the frames.  The observations from beekeepers were that the product was increasing the health of the hive, brood production and honey production.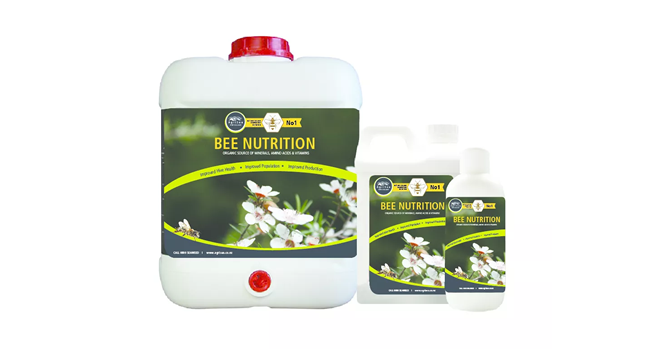 Clare and Tane engaged with Mark Goodwin at Plant & Food Research and gained a Callaghan Innovation project grant to enhance the Animal Nutrition into a specific Bee Nutritional Formula and to investigate the effects of this product on hive health, the results of which are due later this year.
Although product research is important the company has also invested heavily in environmental research over the past decade.  This whānau have entirely funded NZ's largest research project into the effects of seaweed wild harvest on the marine coastal eco-system.  The data will help develop a long-term sustainable seaweed industry for New Zealand.  Seaweed is the bottom of the trophic level and is not just food but also habitat for marine organisms.  Without a robust seaweed fishery plan including structured monitoring and reporting rules there is the danger of over-fishing.
The inconvenient truth is the potential to significantly affect the larder of local communities and also other high value in-shore fisheries as their fish/ crustaceans use seaweed to hide/grow in.  "It is akin to cutting down the trees in the orchard instead of picking the fruit.  When we speak of the value of seaweed the environmental value is uppermost and the economic value secondary.  But done right, a long term sustainable seaweed industry for NZ is possible that will add value to remote coastal communities and GDP – no compromise," says Tane.
Tane attended the first Māori Business Course run by Auckland University some years ago.  He told his family that every time he went to a business course or conference he would be the only Māori there but this time he was in a room with 30 other Māori business people and was 'blown away'.  Since then Tane and Clare have been to the USA with a Māori business contingent Kai Rawa supported by Callaghan Innovation, working with other Māori businesses to add value is an opportunity Tane and Clare relish.
Kaupapa Māori is a lived reality, not an academic exercise, from the 'whānau first' policy to the manaaki whenua, moana, tangata that informs every decision from the beach to the barrel.
For further information, check out their website – www.agrisea.co.nz.