Adrienne Whitewood – Rongowhakaata
Inspired by Māori art and culture, Adrienne takes traditional concepts and with them creates unique print on silhouettes, reflecting her love of decorative design.  Her ethos is all about creating an emotional connection to indigenous design.
Sewing from the age of 8 taught by her kuia (grandmother), Adrienne pursued her studies in textiles graduating in 2009 from Auckland University of Technology with a degree in fashion.  She opened her first store ahu Boutique in 2013 dedicated to growing high end contemporary Māori design in Rotorua and held her first solo show at New Zealand Fashion week in 2017.
Adrienne says, "I love to think of print as a way to give the body movement through design.  I'm always fascinated when I research different Māori art practices and discover how inventive and resourceful our tūpuna (ancestors) were.  Designing using Māori print is a way I feel I can make that connection to my culture.  I'm always blown away by all the amazing customers that love our pieces and I feel a genuine need to dig deeper and create more meaningful designs that reflect this passion for indigenous Aotearoa creativity."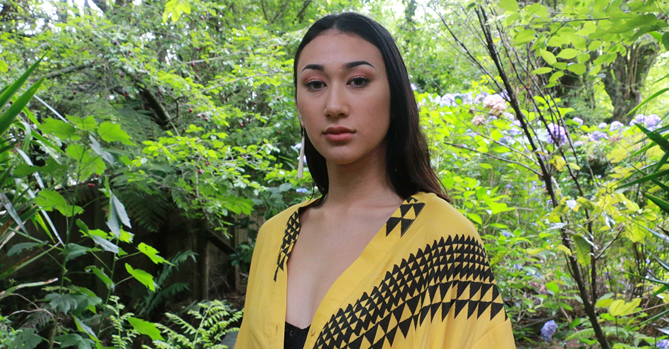 The main ahu Boutique store is located at 1178 Eruera Street, Rotorua where her entire range is available for purchase or you can buy online.
Wellington POP UP
ahu have had a blast over the past few months down in Wellington, with only a couple of weeks to go!  Make sure you go and check out their latest ranges and designs if you're in town.
Open: 10am-4pm everyday for a limited time (weather dependent)
Where: Taranaki Wharf (left of Te Papa)