Collaborative Leadership 2 Inspire Maori Business
 Northland is known for its tropical climate, white sandy beaches, ancient kauri, fishing, diving and kaimoana.  What many don't know is that it also has some of the hardest working, innovative, down to earth entrepreneurs in New Zealand. 300 kilometres north of Auckland is the quiet town of Kaitaia, known as 'The gateway to the Far North'.  This is where we decided to hold the first CL2IMB Network Event for 2017.
Doing business in the Far North definitely has its challenges – limited broadband, bad cell phone coverage, terrible roads and a shortage of qualified, experienced staff.
What many business owners in the Far North don't know is that there are organisations available with resources, connections and funding to help them.  This support is invaluable and has the potential for local business to go global or small ideas to become complete game changers.
So, we set ourselves a challenge and decided to invite these support services to Kaitaia to meet the business owners and to present what it is they do to help Maori Business succeed in Te Tai Tokerau.  A panui went out to various organisations and within a week we had a venue, guest speakers, caterers and sponsors. CL2IMB (Collaborative Leadership 2 Inspire Maori Business) Kaitaia was underway.
The purpose of the hui was:
to provide a forum to inform business owners on what is available to develop and grow their business;
increase Māori access to existing support systems and programmes to encourage sustainable impact, and develop resources, capital and most importantly, entrepreneurial leaders;
to develop a collaborative framework to encourage various organisations to work together pursuing a common goal;
and to provide an opportunity for business owners to establish networks with like-minded individuals and key stakeholders.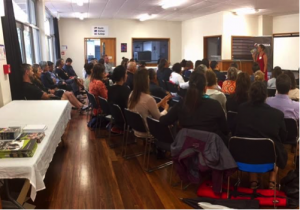 Our speakers were:
Vonese Walker, Poutama – Poutama Investment Funding, Projects
Belinda Peddie, Top Energy – $30k Business Development Fund
George Riley, Northland Inc. – Regional Business Partners, Northland Inc. Projects
Te Ngaronoa Mahanga, ATEED – DigMyIdea Maori Innovation Challenge
Angela Edwards, BDO Northland – Accounting Services, Support, Xero workshops
Francis Davy, NZ Trade & Enterprise – Coalitions and Export
Aroha Armstrong, Callaghan Innovation – Innovation, Technology, R&D, Partners
Season-Mary Downs, Tukau Law & Consulting – Start Up Local Business, Waitangi Tribunal
Rob Murray, Tai Tokerau Honey – Experience in Business, Value of Networks.
Blanche Murray, Kai Ora Honey – Experience, Networks, Opportunities, Whanau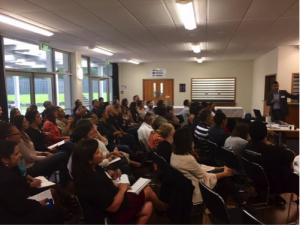 We were on a tight timeframe with only 2 hours of presentations and 2 hours to network.  Our speakers were given 10 minutes to present who they were, what they provide, where they're based and how to access their services.  The night was not without its challenges.  We were unable to use the projector for presentations and so our speakers had to present off the cuff with no props or visuals to support them.  Despite that, they were awesome! Informative, engaging, entertaining and to the point.
Once presentations were complete and our kai was blessed, the true gold came to fruition – Networking!  Business owners had an opportunity to meet and ask questions of our speakers and the agencies had an opportunity to meet a room full of potential clients.  This was a Win-Win situation and the ahua within the room was inspiring!  Na to rourou, na toku rourou, ka ora ai te iwi.
Where to from here?  After the success of this event in Kaitaia we would love to share the same opportunity throughout provincial New Zealand.  Over the next few weeks we will be working with interested agencies to collaborate on further CL2IMB events throughout the motu.
Panui will be sent to those on our Poutama database and made available through social media.  We look forward to sharing this collaboration of resources, networks and information nationwide and working together to grow Maori in Business.
Here's some of the feedback from CL2IMB Kaitaia; 
I felt heartened about the future for Northland Maori business with the quality of people supporting each other.  Get media to this, New Zealand needs to see this and needs to be encouraged to move here and join in. 
Great evening, my thanks to the sponsors and speakers.  They were all very inspiring in such a Maori way.  Look forward to the next event. 
Inspired and reminded to have fun!
Really neat to see people I grew up around having a go at business.  It is beneficial for new Maori owned business operators to share their highs and lows running their businesses to give each other confidence and support especially with the hard times.  A lot of the small/medium businesses need one on one mentoring as they won't feel comfortable putting their hands up for help in big forums.
That was so amazing from an agency perspective.  Our organisation can see real value in supporting events like this in the regions and are keen to work together to have this happen in other regions. Ka pai Poutama!!
Very impressed by funders korero.  Would have liked to hear from Kai Ora how they accessed funders, who helped them and how.
Need to have more of these networking meeting.
It was great to put a" face to the name" and organisation.  Also it was very good to start developing networks having met like-minded developing business.
I enjoyed the day and would like to see more in the future.
All the presenters were great.  I guess Blanche showed me what is possible when you engage with people who can help you.
Thanks to all our Sponsors!