Innovation, creativity and entrepreneurial spirit have always been a strong feature of Maoritanga (A Māori way of life).  From our ancestors who harnessed the natural elements and looked to the stars to navigate and discover new lands, to the tribes that arrived in Aotearoa creating new ways of living, producing food and trading goods.
The DIGMYIDEA Māori Innovation Challenge is a natural part of the story, providing a new generation of young Māori entrepreneurs with a place to develop and showcase their innovative ideas.  All DIGMYIDEA submissions have strong Māori outcomes and are grounded in Tikanga Māori – meaning customs and traditions that have been handed down from our ancestors.
Auckland Tourism Events and Economic Development (ATEED) General Manager Business, Innovation and Skills, Patrick McVeigh, says DIGMYIDEA entries must be exciting, innovative, digital and entrepreneurial.  He explains that they can be anything from an app to a web programme, or even a digital extension of a more traditional business.  "Ideas should have the potential to create economic opportunities for Māori and other New Zealanders, as well as be considered for the export market," says McVeigh.
"DIGMYIDEA aims to stimulate the interest and involvement of Māori within New Zealand's innovation ecosystem, which is an important part of building the technology sector, and a unique point of difference both at home and on the world stage," he adds.
Teams of up to five, or individuals can enter the competition with $10,000 worth of business start-up assistance going to the overall winning entries in two categories:
Mauri oho: youth category (15-25 year olds)
Mauri tū: open category (26 year olds and above)
DIGMYIDEA 2015 winner Brittany Teei created Kids Coin: a digital literacy platform to help teach kids about money in the classroom.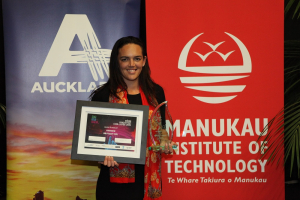 "I didn't know much about the tech sector when I entered my idea, Kids Coin; a digital literacy platform designed to teach kids about money in the classroom. DIGMYIDEA gave me the opportunity to build new networks and relationships with people in the industry," she says.
Kids Coin is now used in classrooms across Auckland and in the Cook Islands, with interest shown as far afield as San Francisco.
"My advice to DIGMYIDEA entrants is to make sure you research your business idea thoroughly, learn as much as you can about your competitors, and have some fun," concludes Teei.
The DIGMYIDEA Māori Innovation Challenge is your chance to submit an innovative business idea that has the potential to go global.  The challenge aims to grow Māori involvement in Aotearoa/New Zealand's economy.  This challenge is about discovering and nurturing your ideas that can make a difference.  The winner for each category of DIGMYIDEA wins a $10,000 start-up package tailored to your specific needs!  It could be computers, mentoring, design work.  DIGMYIDEA wants it to work for you.
Learn more about prizes and how to enter at www.digmyidea.nz.