Aaron & Kimberley Murphy – Ngāti Toa
Hale Health Centre opened in June 2016 when Aaron and Kimberley Murphy returned to Hamilton from Australia on a mission to change lives.
Aaron and Kimberley have a passion for holistic health.  Holistic health is an approach to healthcare that places emphasis on the connection of mind, body and spirit, and supports improving overall wellness and preventing illness.  Rather than focusing on specific parts of the body, holistic health considers the whole person and how they interact with their environment.  Aaron and Kimberley firmly believe that this approach offers the best healthcare treatment possible.
It was with this belief that Hale Health Centre was born.  Hale means living a healthy lifestyle, and Aaron and Kimberley believe "Ora Mai Ora Atu" (wellness within and wellness externally) captures what their business is all about.  The Hale Health logo is a koru, which represents new beginnings, growth and re-generation.
The centre is set up to help people establish and achieve their goals, and deliver the ultimate fitness and lifestyle experience to the community.  At Hale Health Centre you'll find all of the latest cardio and strength training equipment along with a dynamic group fitness timetable, that includes Functional Circuit and Boxfit classes.  Most importantly, you'll find an energetic, supportive environment full of all kinds of people who are committed to bettering their health.
As parents of three, with a love for sport and family, the couple wanted to develop a whānau-orientated facility, that makes everyone feel welcome and accepted.  Aaron and Kimberley believe their gym is different because they care about individuals and how they feel (rather than what they look like), and don't see members as numbers.
Aaron and Kimberley love helping others achieve their health and fitness goals, and will welcome you, at any stage on your health and well-being journey.  No judgements, but a true willingness to help you succeed!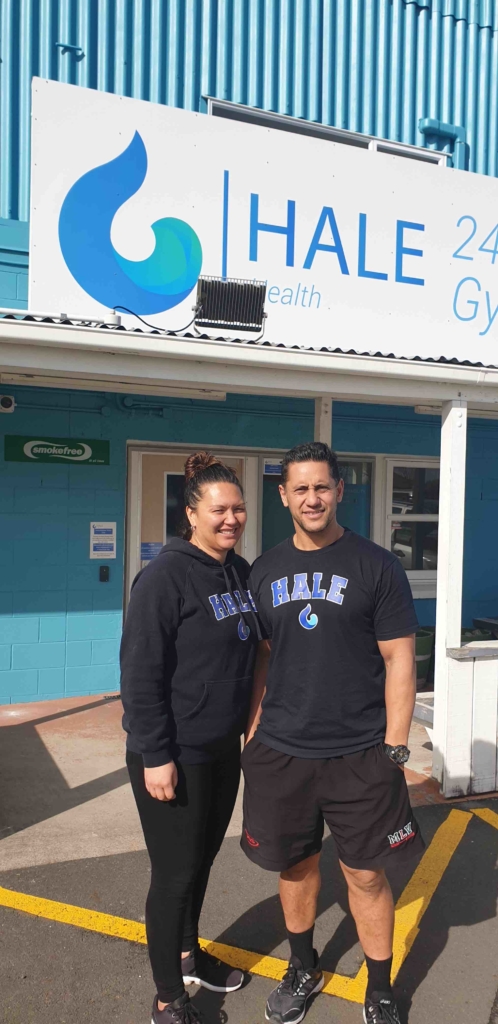 Q&A with Aaron and Kimberley:
What inspired us to go into business?
Our love for fitness and sports and setting a positive role model for our children is what inspired us to go into business.  Aaron worked in the health and fitness industry for 20 plus years and Kimberley was involved in a lot of sporting communities.  Upon returning home to Aotearoa from Australia, we felt business was the next step up for us.  We took the punt and backed ourselves by doing what we loved and up-skilling ourselves in the area of business.
Who have we used as mentors?
Networking and bouncing ideas off people who are or have been in business; we've found to be very valuable.  Registering for several business networking groups was helpful too.  I think when we started out in business, we became a sponge and just wanted to learn as much as possible.  We have also been assisted by other organisations who provided great business mentoring services like MWDI and the Regional Business Partner network.  The greatest lessons though came from actually doing the mahi and absorbing the learnings along the way including the mistakes.  It is true, the greatest lessons come from your mistakes.
What have been the greatest challenges?
Going into business has been a huge challenge for the both of us, it certainly has been a roller coaster ride for sure.  The greatest challenge for us was to really dig deep to understand why we were in business.  That meant peeling back the layers and understanding who we were, what we were all about, where we are headed, who we served and what we wanted people to see us as.  We did a lot of work in this area through great mentoring and once we were able to develop this it gave us more clarity of who we were and where we were heading.  The decision making process became so easy from thereafter because whenever we were confronted with decisions especially important ones, we just had to ask ourselves, is it aligned with our vision, mission and core values?
What have been some of the greatest successes?
Starting a business from scratch is a great success.  We had many fears about not starting, putting everything we had into the business was such a huge financial risk for us and to reflect back on the last 3 years, the doors are still open, that's a huge achievement in itself.
But the greatest success and satisfaction has come from having a positive impact on others and being able to create a community that is so loving, accepting and supportive, allowing others to be themselves and shine.
What is the vision?
The foundation of the business is based upon the whare tapa wha health model, aligning the mind body and soul.  We embrace the words whakawhanaungatanga and kotahitanga which is the core essence of our business.  Embracing, supporting, uplifting everyone along their health and wellbeing journey.
The gym is just a component of our vision and having a holistic health centre is slowly coming to fruition.  Our vision is to provide a wide range of services under the one roof that services the mind, body and soul.  We were fortunate to pilot a holistic health program within the Māori community with great success and it is one of our goals to roll this initiative through Aotearoa.
For further information check out their website – www.halehealthcentre.co.nz.