Rewi Spraggon – Ngāti Hine, Ngāti Maniapoto
Rewi Spraggon aka the Hangi Master is a man of many hidden talents: chef, artist, storyteller, musician, broadcaster and carver.  Many people know Rewi from his television shows Maara Kai, Kai Time on the Road and Hāngī Pit Masters but few know that he designed the logo for Māori TV and has even won a Silver Scroll.  Rewi Spraggon is a hard core "Māori-preneur".
Rewi now shares his most recent venture – THE MĀORI KITCHEN.
"The Māori Kitchen's been going for 4 months and it's been an amazing journey.  We now have 8 full time staff and have recently introduced catering which is cranking.
My dream to start the Māori Kitchen was to make hāngī accessible firstly to Māori, secondly to the rest of Aotearoa and finally to our manuhiri that are coming offshore to Aotearoa.
We are based right in the heart of the city on the wharf where all the big cruise ships land and manuhiri come in the city.  From now, the first thing they'll see as they enter the port is the smoke coming from the hāngī pits.  Thanks to Poutama for the tautoko in building the hāngī pits which are now in action on Queens Wharf, where people can not only taste our cuisine but watch and smell hāngī being cooked right in front of them.
That's always been our kaupapa – to share the experience of hāngī with our manuhiri and with people so that they can see the whole process of cooking.  Over the last month we have had the pits burning 2-3 times per day which has been a huge success.  It's really humbling to have people supporting our venture and is a dream come true.
It's been missing on the culinary scene for a long time and now we have authentic, in ground hāngī on the menu in Tāmaki Makaurau.  We're still looking at expanding into Northland at the end of this year but we want to get this model right and put a lot of time and effort into it.  As a business we're focussed on fine tuning processes: ordering, delivery and quality of products.  Growing the business with our team is a real buzz!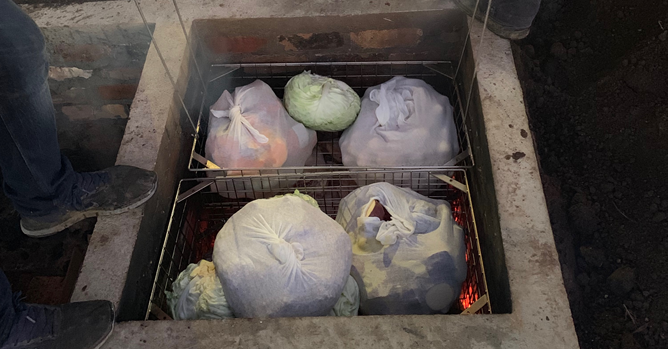 With winter and so much construction happening in the city we thought things may have slowed over June/July but it didn't!  Matariki was massive and The Māori Kitchen had the fire going throughout the festivities.  We took part in a massive gig in Britomart's Takutai Square where we set up a shallow hāngī pit and fed over 3000 people.  There was entertainment throughout the day and a free concert with music legends; Dennis Marsh, The Koi Boys, Rob Ruha and Troy Kingi.  My highlight was having Dennis Marsh sitting around the firepit with his guitar singing "Hāngī Tonight!
As well as local events we were also at Field Days in Hamilton and are now doing all the events with Eden Park, Mt Smart Stadium and Western Springs.  As well as our food trailer we also have a portable hāngī pit which allows us to set up our pit onsite at festivals which can be up to 4-5 days.  It makes it more accessible for us, keeping the art of hāngī true and getting it out to everyone is our big kaupapa.
We're really looking forward to this summer!  We started at the end of last seasons tourism season knowing that if you can't do business off-peak, you can't do business anytime.  We've climbed that mountain and are coming out the other side with confidence.  There have been so many avenues that we've had to go out and find to make this feasible and to keep our heads above water, and we're proud of our whānau success to date.
For further information check out their website – www.themaorikitchen.co.nz.