Written by Missy Armstrong, Poutama Business Adviser
"The NZ Fashion industry can be extremely isolating and is not known for kindness and sharing, I wanted to have a go at changing that culture" Kiri Nathan. 
Following the success of the China Hīkoi 2017, Kiri Nathan led a second delegation of 8 emerging Māori fashion brands to China to share her experience, knowledge and connections.  I had the privilege of joining them in an epic week of fabric markets, manufacturers, photoshoots, and key meetings with some of China's most influential fashion stakeholders and icons!  The group of designers known as Kāhui Māori Fashion Collective (MFC) were:
The group also included:
Jason Nathan – Ngāpuhi, Ngāti Whātua:  Part-time Pounamu Carver; Co-founder KIRI NATHAN
Damien Nikora – Ngāti Kahungunu:  Full-time Photographer, Marketer & Entrepreneur, Damien Nikora
James Rua – Ngāti Whātua, Kai Tahu:  Full-time Film, Stills, Content, Entrepreneur & Co-founder, The Hood & Co
Astley Nathan – Ngāpuhi, Tainui, Ngāti Whātua:  Part-time Development Research Designer (self-funded trip)
Chanelle Taylor – Tainui:  Full-time Model, RPD
*Czarina Wilson – Tongan: Creative – invited as a guest to connect with China manufacture and trade
*Missy Armstrong – Ngāpuhi, Tūwharetoa:  Business Adviser, Poutama Trust – invited as a guest to research and develop support for Kāhui.  *Roopu Rua
The Kāhui MFC exists because Kiri Nathan was so disheartened by an industry that lived in silo's and was unwilling to help their fellow creatives and entrepreneurs.  The KN label experienced prejudice from media, PR agencies and stockists around creating a label with such a strong cultural ethos and aesthetic, stockists wouldn't take on the label for the first two years of business and when one finally did, an established label threatened to remove their well-known brand from the store if KN was not let go, the result was KN losing their first stockists.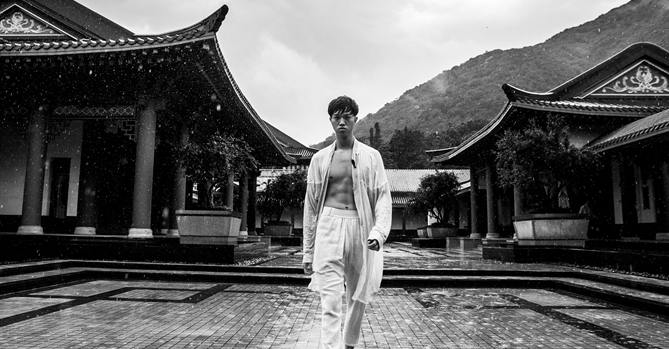 KN became creative with their means to market and in doing so created loyal relationships within the business sectors, government and entertainment.  Deeply affected by witnessing the attrition rate of Māori designers or lack of culture within any mainstream areas of the fashion industry and education sectors, Kiri began making movements towards change.  She wanted to see the fashion industry become one of more genuine sharing and kindness, one that actively contributed to another creative business owners success and one that recognised Māori as a vibrant and viable expression of that.
From Kiri's experience came the creation of Kāhui MFC – a community that genuinely tautoko (support) each others dreams and business success, with kaitiakitanga (guardianship) and manaakitanga (caring for others) at the forefront of their vision.
So what was gained from my experience on this hīkoi?
CONNECTIONS:
Kiri, along with a few others (roopū tahi) left Aotearoa a few days ahead of us (roopū rua) with their first destination, Shanghai.  There they met with potential buyers and industry heavy weights: Alibaba T-Mall Global; Shang Xia – China's upmost luxury fashion brand; Lane Crawford – Shanghai Chinas equivalent of Harrods; and networks into Shanghai Fashion Week.  They were hosted by Guo Pei's Atelier and The Museum of China (which is absolutely MASSIVE in this industry).
Once we were altogether the introductions continued and Kiri's itinerary of strategic meetings left us gobsmacked with the opportunities.  The access and co-ordination of these meetings was so high level and mind-blowing, I can only imagine the amount of hours and work that went into facilitating a hīkoi of this scale.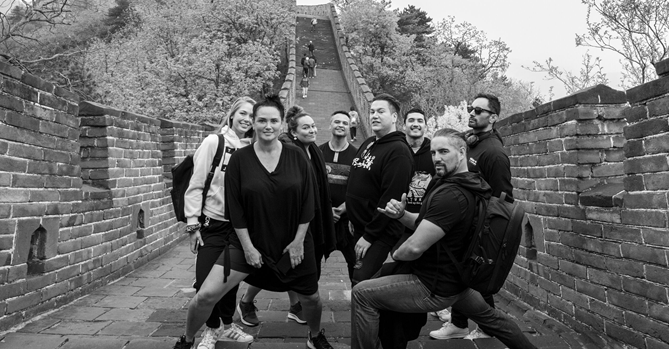 Visiting the world's largest Fabric Markets is no easy task.  Think "kid in a candy shop"!  Block after block, floor after floor of fabric, swing tags, product bags, buttons, buckles, pom poms and more.  The selection was overwhelming and would be impossible to navigate without an agent or translator!  Thankfully, Kiri had partnered all designers with translators and they were briefed on how to interact within the market.  Witnessing this interaction between 3 parties (designer, translator, shop) was priceless and I watched as their confidence grew with every shop.
Other key contacts were made when we visited established clothing and shoe manufacturers.  Designers were able to ask questions around sample costs, fabric testing, shipping, design, minimum orders etc.  We were given tours of the factory to see the production lines in action and also to check out the work conditions for staff.  Whilst manufacturing in China can provide cost effective solutions for production, the alignment of ethical, environmental and sustainable production of their brands is more important.  Some of the designers actually placed orders for samples to be made, whilst others made connections for future reference.
HIGHLIGHTS:
The Photoshoots
Having the opportunity for their garments to be modelled by the gorgeous Chanelle Taylor and images taken by renowned photographer Damien Nikora was a dream come true for our designers.  Damien's talent for making a paru street in China look like a staged shot out of Vogue, AND his ability to calmly guide Chinese models with limited english to pose in torrential rain and lie in ankle deep puddles was WOW!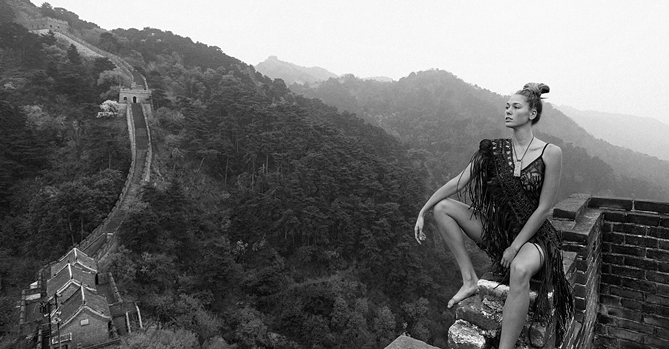 One of the photoshoots took place at the Imperial Springs.  Rated China's No1 Luxury resort it was built for world leaders and royalty and has everything you could possibly need onsite.  Full medical centre with the latest technology, a 27 hole golf course designed by Scottish golf legend Colin Montgomerie, a health and beauty centre with hot springs, spa treatments, pools and more.
Kāhui were given first time permission for a photoshoot at the chairman's personal museum that houses priceless taonga dating 600BC.  This opportunity was made through Kiri's personal connection with the Imperial Springs Executive Assistant Manager, Michael Poutawa.  Michael went above and beyond to manaaki our roopū by inviting us to a 3 course lunch in their restaurant, giving us a full days use of a 4 bedroom villa, chauffeur driven golf carts to and from shoots and packed dinner to send us on our way.  Michael's story of growing up in Otara to managing a property of this rating is incredible, but will have to be saved for another time!
Other photoshoots took place behind the Zhongda Fabric Markets, Guangzhou and on the Great Wall of China.  Both invaluable taonga that our designers will have forever.
NZTE Exhibition
Set on the 66th floor of the Park Hyatt Hotel with a stunning view of the entire city, this event was a static exhibition for Minister Parkers delegation, hosted by NZTE and Consul General Guangzhou Rachel Maidment.  Each designer displayed a three piece collection with an introduction placard to their labels.  The event exposed each designer and their story to New Zealand's leading businesses and organisations.  It was an exciting opportunity for the designers who all worked exceptionally well under pressure to dress the mannequins in time for the delegation guests to arrive.
ANZAC Dawn Ceremony
Having skipped a week of school holidays and Easter with our families, it was nice to share and commemorate this important day of remembrance.  Held at the Shangri-La Hotel we were invited guests of Rachel Maidment – Guangzhou General Consul and ex-Poutama Project Manager (and staunch supporter of the collective).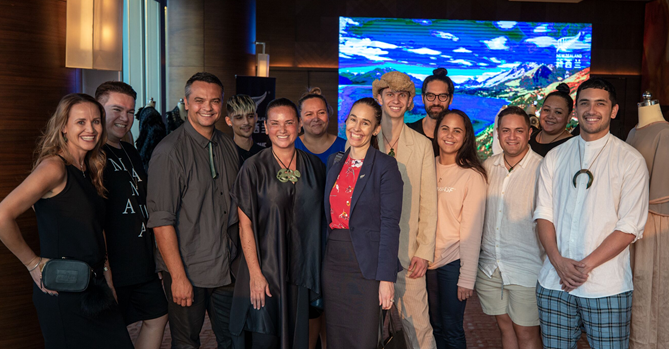 LOWLIGHTS:
The Wholesale Clothing and Fashion Markets at Guangzhou Railway Station.
This is a mecca for wholesale garments, fashion accessories, shoes and leather goods.  The markets are located in multi-level buildings with anywhere from 200 to 1800 individual stalls/stores in each one and it is spread out across several blocks on either side of the railway station.  Most are meant to be wholesale who deal in bulk however there are plenty who are willing to sell one-time purchases.
It was here that I questioned the purpose of trademarks, copyright and intellectual property!  All of the world's leading brands were up for sale at a fraction of the price.  Adidas, Nike, Prada, Louis Vuitton, Apple – if they can't protect their brands, who can???
As a personal side trip, I ventured into a couple of supermarkets to see whether our Māori businesses had products on the shelves.  I was disappointed to find there were no Māori owned honey providers and only one Māori wine producer – Tohu.
4, 5… Smoking in public spaces, plastic (and now fabric) consumer waste and the hideous traffic (mainly due to the Canton Fair – one of the world's largest Trade Fairs with more than 25,000 exhibitors and about 200,000 buyers).
LESSONS:
If you're looking to source fabric or wanting to manufacture in China, you need money!  The selection is massive but agent costs, samples, and shipping quickly add up.
Get an agent in China to help you with on the ground logistics.  Things can and will go wrong and you need someone there who understands the industry.
Have a good understanding of freight costs whether exporting or importing.  Solutions need to be investigated to make this more viable.
If you're planning to go to the markets, make sure you have a clear idea of what you want (so easy to get distracted and impulse shop).
Pay it forward!  Kāhui designers selected for this delegation play an important role promoting and creating pathways for Māori creatives to excel.
GRATITUDE AND THANKS
The experience and learning I received on this trip were beyond my expectations.  Not only did I receive first-hand experience on trading and working in a major international market like China, I also realised how important @Kāhui Māori Fashion Collective is to up and coming Māori designers.
Working with an experienced and respected designer like Kiri Nathan is amazing enough but establishing contacts in China around sourcing fabric, textile companies and being able to produce your designs in a foreign country while still maintaining your vision is greater than any capital injection into these young designers' businesses.  I can only emphasise how important Maori business collectives, and targeted business trips like this are, for the support and development of Maori business in Aotearoa.
Finally, I'd like to acknowledge James Rua, Co-Founder and Owner of The Hood & Co.  James was there to document the hīkoi from Shanghai to Guangzhou to Beijing.  He shot footage behind the scenes and interviewed designers on location in amongst the excitement.  A teaser video was released from one of the photoshoots – #kahuiindigenous with more to come.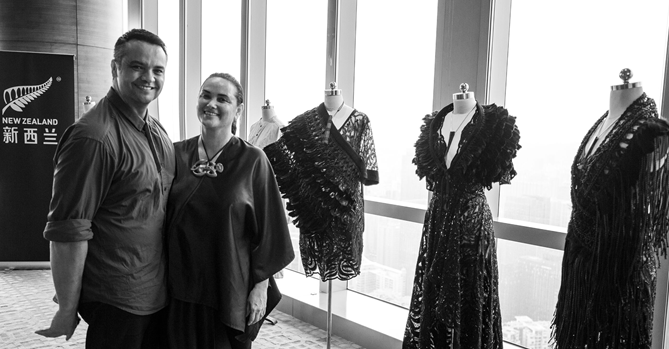 Massive thanks and acknowledgements to our organiser extraordinaire Kiri Nathan and all our designers, Damien Nikora -photographer, James Rua – video, Chanelle Taylor – model and Kiri's No1 Support Guy – Jason Nathan "the one person in the universe that is my pou and always has my back", says Kiri.
A huge thanks to all the sponsors of this initiative: Poutama; Auckland Tourism, Events and Economic Development (ATEED); Auckland Airport; Asia New Zealand Foundation; Te Puni Kōkiri; Ngāti Kuri Trust; New Zealand Trade & Enterprise and MBIE.