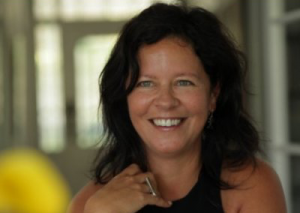 Megan Douglas: My Story
When I began working in television production almost twenty five years ago I had no idea where the journey would lead me.  I was just glad to be working in an industry I loved.  Over the years I worked in just about every role the industry offers; as a researcher/writer, reporter, director, production manager and producer.
I soaked up everything I could and in 2006 I started my own company, Scottie Productions, to make a low budget arts documentary.  A decade later (sometimes it feels more like just the blink of an eye), I find myself at the helm of a company that's won numerous awards and been heralded as a leading light in the Māori production industry.
It's been one hell of a journey, so how did I get here?
In short it's been through relationships, insisting that everything that comes out of the company meets the highest production standards and through the ongoing support of broadcasters, business mentors and the loyal staff who paddle alongside me as I guide this waka through an ever-changing industry.
After years navigating sometimes treacherous waters and building my company in an environment that sees production companies competing for funding on a quarterly basis, I've needed to stay ahead of the pack.  It's a ruthless treadmill that you can't step off – one where you're only as strong as your next idea.  Luckily we've had some good ideas and kept one step ahead of our competitors in this fiscally fickle environment as well as fantastic support from our broadcast partners.
In addition to our commitment to becoming an inexhaustible ideas factory, we've also insisted on adapting to new technology quickly, to leap in early and embrace change – to take calculated risks.
We were among the first production companies to adapt single lens technology, drones and now motion time-lapse, in the programme's we make.  It's been an essential strategy to stay ahead of the pack, and I've been rewarded with commissions due to the fact broadcasters know I'll push hard to deliver beyond expectation.
Standing alongside me and mitigating this risk has been Poutama Trust, they've invested in my business with grants that have been utilised to purchase equipment that's allowed me to deliver.  It's been an incredible relationship that's been invaluable and has allowed me to grow my business into one that provides a livelihood for around thirty contractors.  Each of these people, most of whom are of Maori descent, have reaped the benefits of this investment.
We've all been elevated and our careers enriched due to the incredible generosity of Poutama – that's not to say it's just about the putea.  As I reflect on what has been most valuable, it's actually been the incredibly rigorous application process that's been the most rewarding aspect.  Each application has forced me to rewrite my business plan, reassess my goals and ready myself for the next big challenge.  Poutama have made me more aware of the risks inherent in business and the need to be ready for opportunity when it arises.
In 2015 Scottie Productions were awarded the contract to make Waka Huia, a long running series for TVNZ that has been screening for 27 years and offers year round employment for staff members.  The stability that the acquisition of this programme has given me has allowed me to be sure of what's to come in the next financial year and to finally feel like I can truly plan for the future.  This security as I move into the future has been greatly enhanced by my ongoing relationship with Poutama.