NZ Fashion Designer wins MWDI Māori Business Women Awards 2019
With a vision to deliver Māori fashion in cultural and business excellence, Kiri Nathan was announced the Māori Business Woman of the Year for 2019 at the MWDI Māori Business Women Awards last month in Rotorua.
The Kiri Nathan label produces lifestyle and bespoke fashion, pounamu jewellery and contemporary handwoven kākahu.  It's a whānau owned business with Kiri Nathan, fashion designer (Ngāpuhi, Waikato Tainui Iwi) at the helm, supported by husband Jason Nathan (Ngāpuhi, Ngāti Whātua) who is a self-taught carver who creates the Kiri Nathan Pounamu Jewellery.
The Kiri Nathan label launched in 2010.  The brand embodies identity and inclusivity.  Inspired by Aotearoa New Zealand & Te Ao Māori, the company is built on tradition, culture, unique designs, integrity and a clear company vision.
Kiri founded and runs The Kāhui Māori Fashion Collective, an initiative to support the global growth of Māori fashion designers, taking a group of designers to China annually (2017-present), forming a charitable trust and running a 12-month mentorship programme.  Kiri is leading the first Māori Fashion Coalition with New Zealand Trade and Enterprise.
Kiri has an impressive list of accolades including recently being the winner of the Sir Peter Blake Leadership Award 2019, ahead of five other finalists.
Kiri also won the Business Collaboration (Mahi Tahi ngā Pakihi) Award.
"The annual MWDI Māori Business Women Awards recognise and reward outstanding performances and achievements in business by wahine Māori," says MWDI Chair, Druis Barrett CNZM, QBE.  "This year we had over 90 entries, across seven regional categories and six business categories.  The winning businesses show that Māori business women are changing lives for their whānau, not just themselves."
Māori Women's Development Inc is a unique, indigenous financial institution formed by Māori women, controlled, managed and operated by Māori women, for the economic development of Māori women and their whānau.
Other winners on the night were:
Regional categories (7)
Tāmaki Makaurau: Ceillhe Sperath, TIME Unlimited Limited
Te Tairawhiti: Carla Seymour Mansell, TC Logistics Ltd
Tainui: Messina Waitaci, Tinopai Tours Limited
Te Waipounamu: Janice Lee, Koha Kai Trust Board
Waiariki: Kahurangi Milne, Arataua Limited
Aotea: Mihi Henry-Hatcher, Mihi's place
Ikaroa: Maia Wikaira and Horiana Irwin-Easthope, Whāia Limited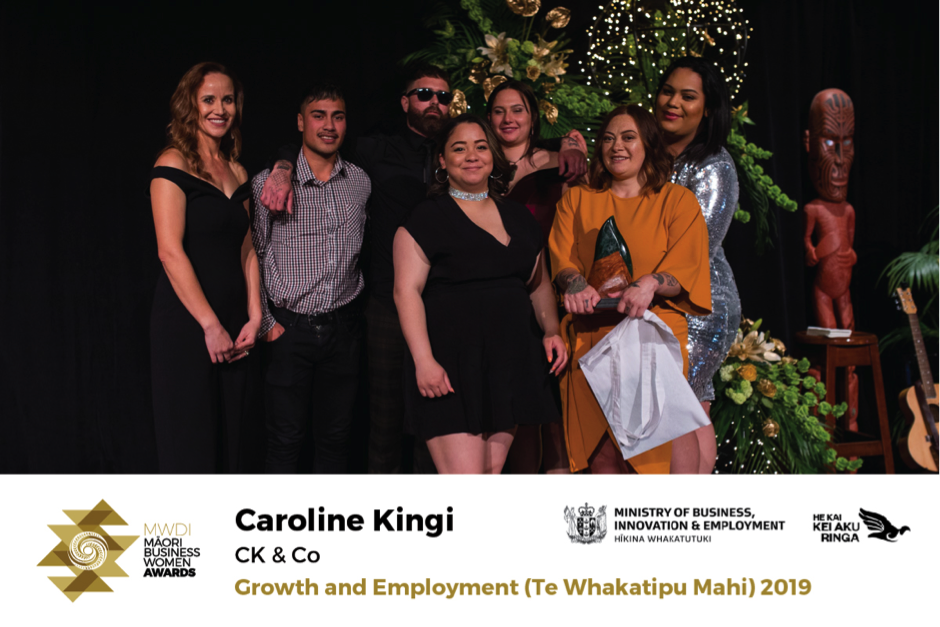 Business Categories (6)
Emerging Business: Maia Wikaira and Horiana Irwin-Easthope, Whāia Limited
Business Collaboration: Kiri Nathan, Kiri Nathan Ltd
Growth and Employment: Caroline Kingi, CK & Co Spa Ltd
Innovation: Melissa Gollan, RIP Global
People & Capability: Caroline Kingi, CK & Co Spa Ltd
Social Enterprise: Lily Stender, Tolaga Bay Inn Limited