There is no denying the Silver Fern (Cyathea dealbata) is one of our nations most recognised national symbols, whether guiding and protecting our export traders offshore, or guiding and protecting visitors onshore.  But what is less recognised is its story of origin, its whakapapa kōrero.  Find out how the silver fern has been used over the years.
IN A NUTSHELL
Our national symbol, the Silver Fern, has long been used as a trail marker.  Its upturned silver leaves glinting in the sun and moonlight to guide people to their loved ones.
The silver fern has been worn by New Zealanders with pride since the 19th Century; in to war, on to sports-fields and on our goods and services, around the world – wherever we go and are at our best.
When you see this symbol you know you are in good hands.
DEEPER STORY
In pre-European times Māori had many uses for this indigenous tree fern from the use of its trunk for building, foliage for bedding, sap for medical purposes and its spikes for small bird spears but, one of its every day uses was as a trail marker.  By simply snapping, over-turning and exposing the silvery-white underside of the silver fern leaf and pointing it like an arrow in the bush, it was a ready-made trail marker in an otherwise dark bush environment.
This use as a trail marker also features in the legend of Rahitutakahina, the basis of the Māori ball game 'ki-o-rahi' which some refer to as 'Māori rugby'.  In the legend, a group of forest fairy people (patupaiarehe) snatch Rahi's wife Tiarakurapakewai (Ti Ara) from her garden.  Rahi makes a Māori hang-glider (manu tangata) to pursue her, and does so taking a small woven basket containing a moa egg, as sustenance.  The kite crashes but Rahi is able to continue his pursuit to find Ti Ara as thoughtfully she had left a trail for him to follow by bending the ends of the fern leaf to reveal their silvery-white underside – eventually she is found.
The silver fern first took on national symbol status with the 1888-1889 New Zealand Natives Rugby Tour led, coached and captained by Joe Warbrick of Ngāti Rangitihi who, in choosing the silver fern as a symbol, offered it with a whakataukī, a Māori proverbial saying:
'Mate atu he toa, ara mai he toa' – When one warrior dies, another arises.
'Mate atu he tetakura, ara mai he tetakura' – When one fern dies, another emerges.
The image this proverb paints is one of resilience, perseverance and perpetual motion; that is evident in the game of rugby, as one player is tackled another takes their place to maintain forward momentum – as one goes down another rises.
It clearly worked for them; by the time the Natives Team dispersed at Auckland they had played 74 matches in the British Isles, 16 in Australia and 17 in New Zealand.  They really were our first successful overseas delegation of New Zealand 'Natives' (NZ born Māori and Pakeha) travelling together under the silver fern.
Thomas Rangiwahia Ellison, of Ngāi Tahu, Kāti Māmoe and Te Atiawa, one of the stars of that team, proposed to the inaugural AGM of the New Zealand Rugby Union that the team's uniform be a black jersey with silver fern monogram, black cap, stockings and white shorts – inspired by the Natives uniform.  Apart from the change of the shorts colour to black, that is the uniform our All Blacks wear today.
In 1899 the silver fern was picked up as an emblem and carried into the Boer War on the regalia of our soldiers.  The symbol of the NZ Division in WW1 and WW2 was the silver fern on a black background.  It was a symbol they took considerable pride in, and painted it on their places of gathering which were nick-named 'fern clubs'.
The distinctive New Zealand FernMark was developed by New Zealand Trade and Enterprise and Tourism New Zealand in the early 1990's to establish a singular visual identity for New Zealand, continuing the legacy left by Joe Warbrick and Thomas Ellison, whether guiding and protecting our traders offshore, or guiding and protecting visitors onshore.
It continues to guide and represent our national pride and prowess – New Zealanders at our very best.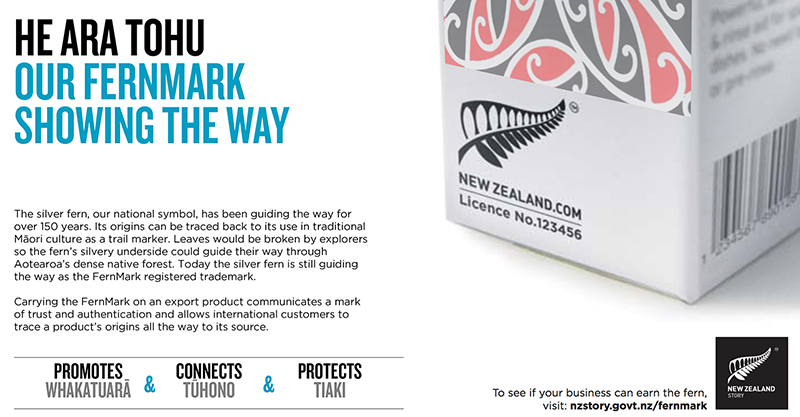 Author: Karl Wixon, Kaiārahi Māori / Leader Māori Dimension, NZ Story Group