Mavis Mullins – Inducted into the NZ Business Hall of Fame.
I can't remember when I first met Mavis but it was probably when we were kids and no doubt it was in a shearing shed.  Our koro Lui Paewai was a shearing contractor and during school holidays he would have us kids working in the sheds starting off in the lofty heights of sheepo, then onto rousing and for some then onto pressing and shearing.
Contact was lost at some stage but we reunited in the 90's when Mavis had completed studying for an MBA from Massey University.  Her MBA was agriculture-based with her dissertation relating to quality management systems.  This led her and her husband's shearing contracting business to seek ISO 9002 recognition, an international tick of approval – the first shearing business in the world to receive such an endorsement.
From the shearing world to the corporate world Mavis was always about doing things right and doing the right thing.  She made inroads into the boardrooms of corporate business at a time when such a world was and probably still is male-dominated.  Not that it was a turn off for Mavis and probably made her more determined to make her mark.  After all if you can handle the rough and tumble of the shearing world where you hone your skills in people dynamics, then Mavis could take anything on.
From there as they say, the rest is history.  Mavis went on to be a board member of Hautaki Ltd, she helped with the establishment of 2 Degress Mobile and sat on the Landcorp Board.  She was the Chair of Aohanga Incorporation and is current Chair of Ati Hau Incorporation and Taratahi Agricultural Training Centre.  In 2015 she was named Business Woman of the Year at the University of Auckland Māori Business Leaders Awards.  Mavis is also a key negotiator for the Rangitāne Settlement Negotiations Trust and PSGE Rangitāne Tu Mai Ra Trust.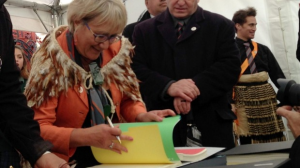 Mavis was recently inducted into the Business Hall of Fame and is the second Māori woman to be inducted.  The first was Te Puea who was inducted posthumously in 1998.  Through achieving the induction Mavis will not see herself as some sort of high-flyer.  She will brush off any accolades with a shy smile but those that know her know she treads imperceptibly but impactfully upon this world.  This could be mistaken for humbleness but I think graciousness is a better term backed up by a steely resolve.
Mavis Mullins came onto the Poutama board in 2003 and has been the chair for nearly 10 years.  During this time she has helped Poutama navigate the ever-changing Māori business landscape.  She's been with us for 14 years and is well due her Poutama Long-service Party!!  We at Poutama are extremely proud of her and see her as an inspiring example of Māori leadership.
Amongst her high profile, very busy and demanding life, Mavis and her husband Koro have raised four children and are grandparents to 14 mokopuna, all whilst maintaining an active role in the family shearing business.
Mavis is a globetrotter and does all this while staying close to her roots in Tamaki-nui-a-rua (Dannevirke), a town of 6,000 people that has no airport, but it does have broadband.  This enables Mavis to be digitally on point with the rest of the world where she pops up in places like IBM, New York and Google, Silicon Valley as well as Te Kuiti's annual shearing competition…..innonative as ever is Mavis Mullins.
Na RJ & Te Roopu Whakatau o Poutama