TOA, Tamaki Makaurau Office Architecture, is about Strength, Bravery and Cutting New Ground.
Nicholas Dalton is an NZRAB Registered Architect, Founding Director of TOA Architects and leads the design and delivery of all projects at TOA.
Nicholas has a passion to produce great architecture that relates specifically to the local environmental and cultural qualities of the area the project is to be situated in.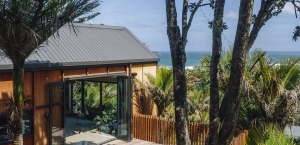 With more than 20 years experience, Nicholas has worked on a multitude of project types. He was the principal architect for an eco house that was realised in Nagano in Japan in 2006, the Piha Café in Piha NZ in 2007, as well as the highly successful Waka Maori pavilion that was situated on Auckland's waterfront for the 2011 Rugby World Cup.
He describes his designs as "client and site specific" and involves the client at every stage of the project. His firm coordinates a number of contributing consultants and manages the entire process from initial concept drawings through construction to "hand-over" of the completed project.
TOA approach architecture differently. They value the Tangata – People; Whenua – Land and it's history; Aroha – Heart; and Wairua – Spirit. These are the concepts that inspire their architecture.
TOA also take seriously their role as Kaitiaki – Guardians of their clients' and communities' projects, as well as the wider environment.
Nicholas has identified a market for "making homes healthier". He has aligned with a Home Star accredited professional and is currently working on numerous projects with an environmentally friendly focus.
Last year he worked on the first eight-star rated apartment in New Zealand with the intention of promoting the healthier living aspects of this type of design through public relations articles.
TOA Architects pride themselves in providing striking and innovative solutions to any architectural challenge. They have experience across many sectors of architecture in New Zealand and abroad, including commercial, residential, hospitality and event sectors. Their purpose is to create designs using history and culture specializing Maori themes and beliefs using succinct processes.
TOA believe in the significant influence the built environment has on our minds and our lives.
Successful buildings go beyond providing shelter to contribute a delight that enriches our lives and enhances the landscapes buildings arise from.
Last year TOA and Nicholas were profiled in the ArchitectureNow newsletter, check out the full story and interview here.
For further information check out their website – www.toa.net.nz.