HOW IT ALL STARTED
Our story began when The True Honey Co. founder Jim McMillan spotted hills blanketed with Manuka flowers while exploring New Zealand's breathtaking, remote back country.
It gave him an idea – to harvest, bottle and sell Manuka honey that's deliciously good, looking after everybody (and every bee) at every step.
Jim and his team searched for the best areas of Manuka bush, building solid partnerships with the people who own the land. This took lots of time spent working together, before a drop of honey could be made. But this process meant that nowadays, wherever we place our hives, you can be sure that landowners are getting a fair deal too.
Just as important was looking after the honeybees. So our hive of industry grew to include clever beekeepers, and artisan honey makers to make sure every pot is delicious with the quality you'd expect from high MGO rated Manuka honey.
These days, as well as making our very own Manuka honey, we're sharing it with honey lovers throughout the world, cutting out the middle man, so you get the real deal at a fair price.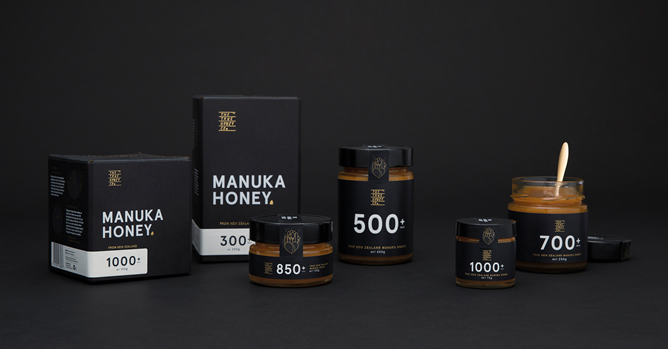 HONEY FROM SOMEWHERE FAR FROM ANYWHERE
Deliciously good Manuka honey from New Zealand's most remote, pristine locations.
LOCATION, LOCATION, LOCATION
A rare and precious honey from New Zealand – each region's climate and landscape contributing to our honey's rich, complex flavour characteristics.
WHY IT'S SO GOOD
MORE MGO MOJO
All honeys are not created equal. Most honeys contain a naturally occurring hydrogen peroxide (HPA). But Manuka honey's contains something else, hence the term 'non-peroxide activity' (NPA). That 'something else' is methylglyoxal (MGO), a sugar molecule found in most honeys in small quantities. But in Manuka honey, MGO can be up to 100x higher.You know you're getting the good stuff with The True Honey Co. because we only sell rated honey from MGO 300+.
UNTAMED FLAVOURS
This raw natural bounty comes from deep within wild, remote bush country – tough, rugged, and a challenge just to get there. The taste is a little untamed too – rich, resinous, bittersweet – to complement your culinary explorations.
WHAT IT SAYS ON THE JAR
We've cut out the middle man and only sell our very own honey direct to you from this very website. So you can be sure that you're getting a premium quality, Manuka honey, at a fair price.
PREMIUM MANUKA HONEY RANGE
A collection of exceptional quality Manuka Honeys for soothing sweetness, and your finest culinary adventures.
All direct to you from The True Honey Co. hives. We sell only Manuka honey rated 300+ MGO, and independently test and guarantee the MGO level in every batch.
300+ MGO, 250g
300+ MGO, 400g
500+ MGO, 250g
500+ MGO, 400g
700+ MGO, 250g
700+ MGO, 400g
850+ MGO, 125g
850+ MGO, 250g
1000+ MGO, 75g
1000+ MGO, 125g