Over the past decade, Miromoda has created a unique opportunity for more than 300 budding Maori fashion designers, to enter their annual nationwide competition.  Around 150, as well as six guest designers of other indigenous descent, have received exceptional experience and exposure by appearing in the Miromoda Showcase at NZ Fashion Week.
The 2019 reviews from extensive media coverage of the 10th consecutive year showcase have rolled in which has made this year's gig extra special and the months and years of grind in preparation for everyone involved, all worthwhile.
The consensus is Miromoda is now well ensconced as one of the big-ticket shows at NZ Fashion Week with a packed audience of up to 700 and literally thousands of online viewers of their showcase in less than 24 hours.
Former publisher, Ata Te Kanawa (Ngāti Maniapoto) is co-founder of Miromoda along with close friend Sydney based artist, former magazine publisher and fashion judge, Rex Turnbull (Ngāti Tūwharetoa).
Rex hasn't always been able to attend NZ 's premiere annual fashion event but was able to join in on this year's milestone celebration.
The pair compared how different the NZ Fashion scene is now from a decade ago when they attended as writers of their respective and independently owned magazines, LINO and TU MAI.
They were reminded of their concern for what they were not seeing at NZ Fashion Week back then, essentially very little, if any, Māori representation as designers and models at a New Zealand trade event.
Turns out, with the support of Creative New Zealand, and after the pair called a meeting in 2008 to discuss their concerns with tertiary institutions, government departments and fashion industry people, they found a keen supporter and ally in founder of NZ Fashion Week, Dame Pieter Stewart.
An unexpected offer of a 'free' $20k spot at NZ Fashion Week in 2009, with instructions from Stewart on how to make it happen, immediately kick started the concept of Miromoda.
"We had less than a few months to form a company, plan a launch, organise an annual competition, seek sponsorship funding and prepare to take a group of Māori designers to NZ Fashion Week," says Ata.
Adding "we kind of bluffed our way through the first one then realised we were stuck with an annual fashion gig.  Next thing its 10 years."
Miromoda now has an annual suite of related fashion events in Wellington and Auckland which might extend to Christchurch in 2020.  The Wellington programme comprises it's annual all-day competition and an invited designer runway show in June.  In late August, a designer workshop and Miromoda Sneak Peek event takes place prior to the Miromoda Showcase at NZ Fashion Week in Auckland.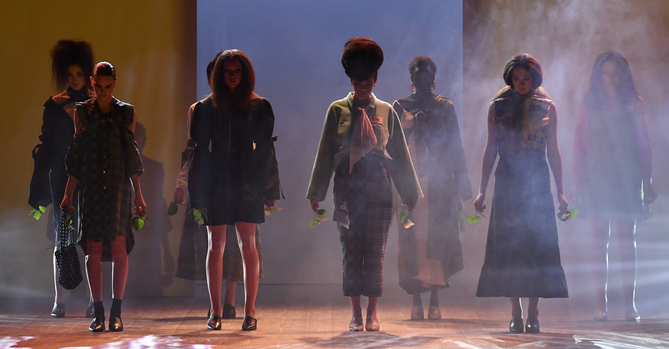 Of the Miromoda journey, Ata admits the model they have utilised thus far used for providing this platform for Māori designers, has been a huge challenge and difficult to sustain.  She says of the future she would like to introduce a subscription whereby tertiary institutions and iwi entities support and invest in this unique opportunity to grow fashion businesses.
"We know our Miromoda brand is very strong and that tertiary institutions use it to market their courses.  Iwi entities need to broaden their scope of where value lies in building the creative and economic future of their people, most of whom are under 40 and embracing new technologies with gleeful vengeance."
In this year's line-up of designers, Ata says the creative processes of the designers address a variety of issues and include sustainability, impact on the environment, mental health and technology.
Miromoda has been instrumental in establishing up to 20 Māori fashion businesses, it has proven runs on the board and is part of a mainstream fashion trade event.
NZ Fashion Week belongs to a global network of official fashion events which differentiates from other related or associated fashion events.
In 2020, and working with a researcher from Victoria University, Miromoda has plans to produce a 10-year coffee table book which will amass a decade of pictorial Māori Fashion.
Miromoda stables continues to grow.
Māori fashion designers who have entered the Miromoda competition have gone on to become fashion businesses and either been part of other collective shows or had solo shows.  These include Bobby Luke Campbell, Adrienne Whitewood, Pia Naere, Mitchell Vincent, to name a few.
Named Australia's best menswear designer in 2018, Blair Archibald was an emerging winner in the Miromoda 2010 competition.
Miromoda cast the only 4 Māori models available at its first show in 2009, Māori models now make up a collective 40% of models across all model agencies
Miromoda works with Sevilles hair and make up school under the direction of acclaimed hairstylist and makeup artist Warren Dion Smith.