By Sam & Anastasia Bennett – Te Arawa
Our story started back in 2010 when Sam and I met at an Auckland MMA gym.  We were both training hard, competing in this sport and loved our community.  In 2011 we moved to Wellington to pursue Sam's career as a public servant.  Although both of us were working full time jobs, training at a normal gym and sparring with each other, it still felt like something was missing.
We lacked the community aspect we'd had at our MMA gym in Auckland and could not find a similar gym in Wellington that gave us the same feeling.  We decided to give a CrossFit gym a go and fell in love!  In 2012 we started running female-only boot camps and kickboxing classes in Titahi Bay.
We outgrew our venue very quickly and decided to start the process of opening up a larger facility as we were determined to help as many people as possible to get fit, strong and healthy.  It has been a super rocky road but also incredibly rewarding and we wouldn't change it for anything!
WOF CrossFit was born in June 2013 on Sam's birthday.  For the next 2 years we both continued to work full time at our paid jobs alongside growing our new business full time.  There were long days and short nights but we had an amazing bunch of people to help.  At the end of 2014 we hired a mentor to help us grow and it allowed me to leave my "day job" and concentrate on growing an amazing business.
We had a baby girl on the way and I couldn't imagine how I would possibly look after a newborn, work fulltime and run a business.  Our mentor helped us to make some crucial decisions that enabled me to leave my job and focus on our family, our business and our community while Sam continues to further his career and support me in strengthening our business.
Sam and I both come from competitive backgrounds, we know how to work hard and achieve results for ourselves and our clients.  We love travelling as a family, exercise and eating yummy food.  Our core business values are: people, commitment, loyalty and relationships.  We want to empower, inspire and motivate people to achieve results, feel amazing and live a healthier life.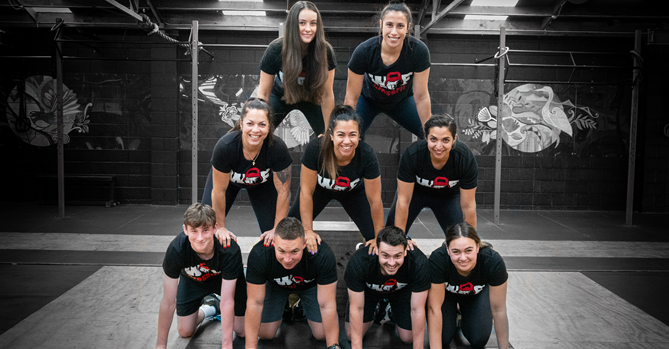 We have a knowledgeable and caring coaching team who live and breathe our values and want to help you to have the best hour of your day when you come to WOF CrossFit.  "We help people in the Porirua community improve their health and well-being and achieve their goals through fitness, nutrition, and the support of a like-minded people".
Our vision is to empower, improve and motivate YOU" Each time you walk through our doors, you can expect a personal welcome and an amazing experience.  We don't hide behind false promises.  You will work hard but you will have fun doing it!  Have you struggled with setting and meeting goals?  Are you tired of always ending up in the same place you started?  WOF CrossFit can help change that!
For further information check out their website – www.wofcrossfit.co.nz.